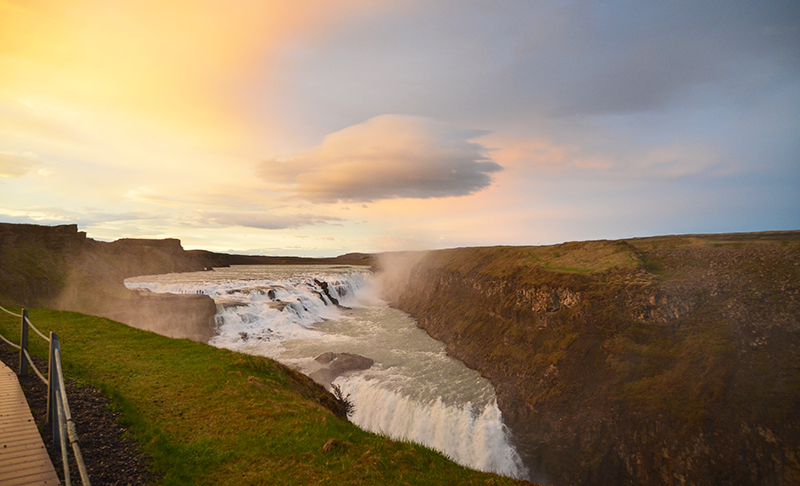 Continually Discovering — An Icelandic Adventure
It wasn't a photograph, book, or film that enticed me to visit Iceland. It was a simple cup of skyr, the traditional Icelandic yogurt.
I love traveling because the more I travel, the more I find out about myself, and the stronger I get. When I told my friends that I wanted to go to Iceland for break, they were skeptical and thought I was strange to want to visit a land of ice. That's the first mistake anyone can make about Iceland. Contrary to its name, the island country is full of crystal-blue lakes, towering mountains, and majestic waterfalls. And after my first bite of skyr, I knew Iceland had my heart.
As a member of Shen Yun, I get the great opportunity to travel far and wide. In my eight years with the company, Shen Yun has taken me to five continents, over 15 countries, and 100-plus cities. But I never get tired of traveling, and always insist on doing my own travels during break after each season's tour.
This year, my mother and I set off for Iceland with no tour group and no planned itinerary. We were driven by my yearning to explore, and armed only with a Lonely Planet travel guide, a GPS, and a roadmap.
Surprises: Weather, Roads, Hikes
Before our flight, I studied my guidebook cover to cover for helpful information. However, upon arrival, I realized that the knowledge I amassed was not the whole of the country. By far. One of the first things I learned after we got off the plane was that Mother Nature governed Iceland. I wasn't prepared for the weather, which changes every 10 to 15 minutes. One moment it would be pouring like there's no end, then suddenly sunny and warm, and just when you gullibly unbutton your jacket, a blast of Nordic wind comes to chill you through. Lesson in this: there are many things in life we cannot control, and we should be flexible and patient.
With this motto in mind, we set out to see the country. One day during the road trip, my mother and I decided to take a gravel path up a mountain. Our map and GPS both indicated it was a shortcut, and feeling clever, I urged my mother to keep driving up the dangerously winding road. To my growing apprehension, the path became steeper and harder to ascend. I sensed tension increasing in the driver's seat next to me, and began fearing that my mother would develop arthritis in her fingers from gripping the steering wheel too hard.
We never made it to the other side.
No, we didn't drop 800 meters off the edge. We were almost at the top when a 700,000-year-old stratovolcano named Snæfellsjökull stopped us. At this point, we were seeing red and yellow "Danger! Impassable!" signs all around. My mother gave me a look, and I shrank into my seat, admitting defeat. "Hehe... I guess we have to turn back?"
Later, I learned that the northern route we took—Route F570, for all those who do not want to follow in our footsteps—is an exasperatingly rutty road compared to the usual route on the south side that tour groups and other reasonable people take. Also, the road was still closed for the season because the glaciers had not yet melted. So as we discovered too late, before you plan a trip, check Iceland's road information website (//www.road.is/) to make sure your routes are open.
On another occasion, we were forced to U-turn when a rising river submerged a stretch of the gravel road ahead. The river wasn't indicated on the GPS. It was probably recently born from a melting glacier nearby. Seeing no way to advance, we decided to change our route. And within minutes, we arrived at a stunning waterfall. There was even a little ledge that you could climb down to if you wanted to get really close to the water. Standing on the ledge, I realized that although we ran into a seemingly frustrating inconvenience, we adapted and were rewarded with an amazing sight. Applying this incident to my daily life, it's like staying positive and accepting when I encounter problems, and as a result, receiving in unexpected ways.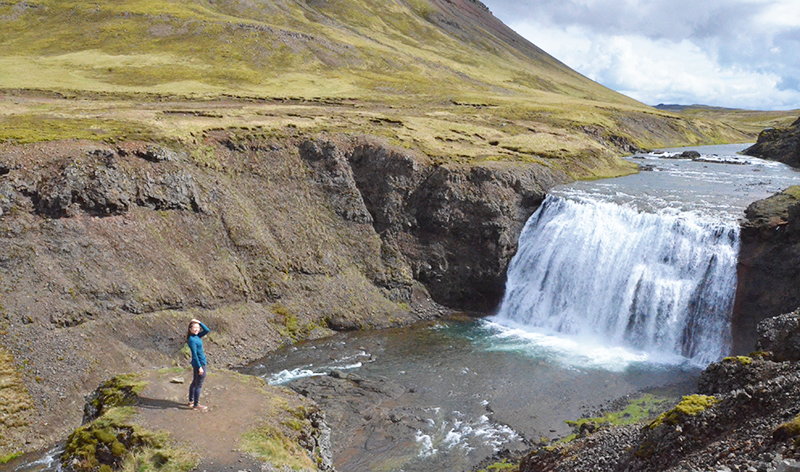 Next, we wanted to visit Iceland's second highest waterfall, Glymur. Guess if we ran into another surprise. After hiking for an hour, we stopped to chat with an elderly gentleman. He confronted us with this shocking news: in order to see Glymur, you have to brave an intimidating river. When we got to said river, there were already people in the midst of the challenge. We watched, with trepidation and admiration, as they held on to a supporting wire to cross to the other side.
We would've attempted it, but we didn't have the gear they did. So I let go of my yearning for Glymur and began the long march back to the car, comforting myself with the fact that although we didn't get to see the mighty falls, we did get to enjoy an uplifting hike through Iceland's magical mountains. And how many people in the world have had that pleasure? But if I ever get to come to Iceland again, I'll definitely reach Glymur and with my gear.
Despite previous setbacks, we did make it to the top of a real volcano. Standing on top of Grábrók and looking out over the mountainous landscape, I felt incredibly small and many of life's difficulties suddenly didn't seem so troublesome anymore. In Shen Yun, we have a favorite saying that comes from a traditional Chinese proverb: "When you take a step back in a conflict, you will find the seas and the skies boundless (退一步海闊天空)." It really is true. And there on that majestic peak, I tried to save the breathtaking view in my memory forever to remind myself of the adage.
Nordic Indulgences
Because my mother loves hot springs, we were always on the lookout for them throughout our trip. Iceland is known for its little pots of silky geothermal heated water. They are actually referred to as "hot pots." During our nine-day journey, we managed to find six different hot pots to boil ourselves in. We experienced heated Olympic-sized pools at swimming centers, natural springs that were formed in the 1800s, and luxurious tourist-attracting ones too.
Our favorite was the Laugarvatn Fontana Geothermal Baths. It boasts three geothermal steam rooms, three different temperatures of hot pots, and a Finnish-style dry sauna. It's also next to a lake, so you can take a daring dip into the frigid waters right after your steam bath. This supposedly releases stress and improves blood circulation.
All these adventures needed good fueling up, of course. During our travels, we got to taste many different types of seafood. I'm not much of a seafood lover, but the Icelandic variety won me over. I also got to sample pylsa, the Icelandic hot dog, which is made with a frank of organic Icelandic-countryside-roaming lamb.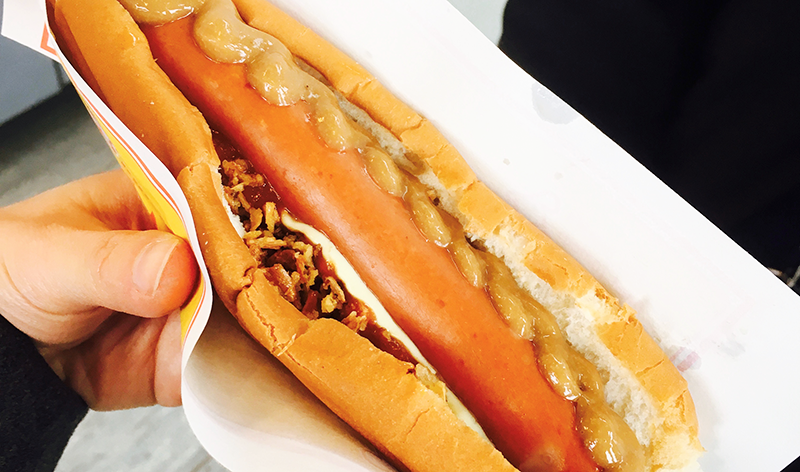 However, I apologize to all the bold foodies out there; I didn't try puffin, whale, the infamous hákarl (rotten shark meat), or svið (roasted sheep skull). For your reference though, I heard that whale and puffin aren't bad. But beware of hákarl, one reviewer described it as lethal.
Wonderful Wanderings
When I travel with Shen Yun, it is not possible to sightsee to my heart's content due to our packed schedule, but what I experience is more precious than anything I'd ever come across on my own; we get to perform in distinguished venues, meet and work with people from all around the world, and experience so many remarkable things. I am gaining valuable skills, but moreover I am discovering what I am capable of and how I can become a more determined person. Touring with Shen Yun has increased my tolerance and expanded my perspective on life. If I had made the trip to Iceland a few years earlier, I'm sure I wouldn't have treated the difficulties we came across in the same spirit.
My experiences in Iceland impacted me in a special way. Magnificent nature and undisturbed atmosphere, ineffable experiences, can do magical things to a person. But as the new performance season begins, I realize that I don't have to be on top of a mountain or overlooking the ocean to feel inspired. Every time the curtain rises and the gong is struck (by me), a similar but even more meaningful feeling captures me. We travel far and wide to bring our audience messages of courage and hope. But throughout tour and even during each show, I find that I'm continually discovering new inspiration at every turn as well.
Every new season makes me excited and eager to meet the surprises, lessons, and rewards it will bring. And I know the audience will find these beautiful things in our performance too.

January 3, 2018