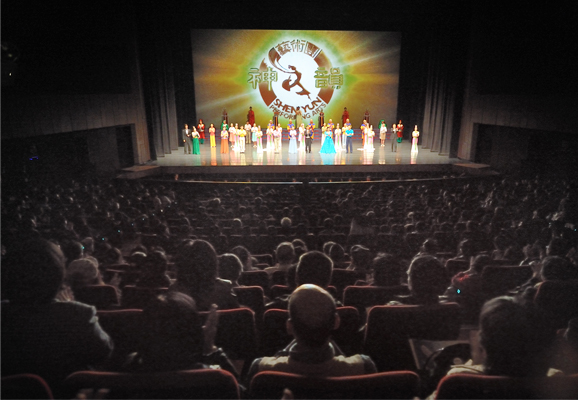 Taiwan's Shen Yun Rave - Tour to Return to Taipei
Taiwan has reported that a number of its Shen Yun shows have sold out during this year's International Company Taiwan tour. Due to high audience demand, local organizers have announced plans to extend the number of shows. Three additional performances have been scheduled for Taiwan's capital city, Taipei, from April 19-21.
On March 12, Shen Yun International Company launched its 2011 Taiwan tour in Taoyuan City. The company has been received by full houses in each city since its inaugural show. This "Shen Yun Rave" is not limited to Taoyuan, Chiayi, Taipei, and Taichung, cities that have previously hosted the show, but also includes cities receiving Shen Yun for the first time. Ticket sales for the six performances in Keelung City were high in the ninetieth percentile, capturing the attention of the local arts community.
Many audience members this year have been watching Shen Yun for the first time. They went on to recommend the show to their friends and family, hoping to share their discovery with their loved ones. Mr. Lin Wu-Hu, a nationally recognized piano tuner, had never been to a Shen Yun show before. After watching the performance, he immediately sent more than over 300 emails to his colleagues in the arts world, telling them they "must go watch Shen Yun."
In Taipei, where tickets sold out long in advance, all five performances played to a packed house. Many VIPs from Hong Kong, Mainland China, Japan, Singapore, Malaysia, and other neighboring countries traveled to Taiwan to attend the performance.
After receiving news of the added performances, Taipei foreign trade worker Mr. Chang Shu-hsin wrote to his friend on Facebook: "This is really excellent. Many of my friends couldn't get tickets. Now they have a chance to go see the show!"
Performance Delights Government, Business, and Media Professionals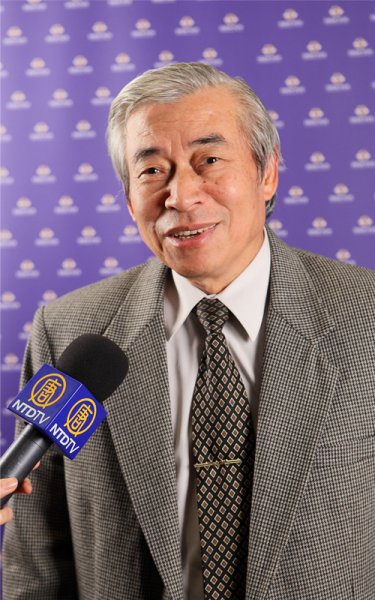 R.O.C. Ministry of Transportation
and Communication Administrative
Deputy Minister Mr. Kuo Tsai-wen.
"The performance was superb!" said former President of the Examination Yuan and senior presidential advisor Mr. Yao Chia-wen, "I encourage the general public to come… It's a pity you cannot see a show like this in Mainland [China]."
Administrative Deputy Minister for the R.O.C. Ministry of Transportation and Communications, Mr. Kuo Tsai-wen, said after the show, "The Shen Yun performance is filled with the grace of the heavens. The dance movements are divinely inspired… and they are so precise!"
Mr. Wu A-Ming, Board Chairman of Taiwan's leading newspaper The Liberty Times, returned for his second year of Shen Yun. "Very nice, very nice indeed!" Mr. Wu said referring to the Shen Yun orchestra, "I really enjoyed the live instrumental accompaniment!" He added that the performance helped him better appreciate the freedoms Taiwanese are able to enjoy.
"[It was] beyond my wildest expectations! It's a fantastic presentation of Chinese culture," former publisher, president, and chairman of Central Daily News Mr. Huang Tian-tsai said. "[Shen Yun] is promoting traditional Chinese culture around the globe. I think their spirit will make a great impression anywhere in the world…I saw the great diversity of Chinese culture, as well as a display of its unique elements, which distinguishes it from Western culture. I felt that was great!"
Taiwanese Arts Society on Shen Yun
Taipei Philharmonic Orchestra
Resident Conductor Tien-chi Lin.
"An extremely successful performance! Absolutely top-notch." Conductor of the Taipei Philharmonic Orchestra Resident Conductor and violinist Mr. Tien-chi Lin said after his first time watching Shen Yun. With his musical background, Mr. Lin paid special attention to the way the orchestra coordinated with the dancers on stage. "The synchronization was perfect. The musical expression matched the dancers' movements excellently. I was very touched… it was definitely worthwhile."
Ching Shiun International Art Auction Company chairwoman Ms. Chen Pi-chen said, "Although Shen Yun has only been established for five years, it has attained such spectacular results… It's really quite brilliant!" Ms. Chen shared the insight she gained from the show: "Everyone should cherish being part of this world. I feel we should really be grateful for this opportunity."
Keelung City renowned dance professional Ms. Liu Baoyue said, "I've seen so many performance arts groups, none of which can compare with this. Shen Yun is really world-class, yet every year they manage to surpass themselves…an altogether impeccable performance!"
Shen Yun International Company will be in Tainan from April 13-15, and Changhua County from April 16-17. Afterwards, the company will return to Taipei's National Dr. Sun Yat-sen Memorial for three additional shows. Please check the online calendar for more information.
April 7, 2011